IN MEMORIAM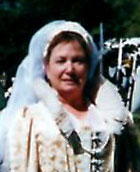 Linda Duncan
Signora Mary Elizabeth Viggiano
September 27, 1947 – September 14, 2010
Linda Duncan was born on September 27, 1947 in Houston Texas and passed away on September 14, 2010 after a courageous battle with cancer. She moved to California in 1967.
Linda was employed as a receptionist for Arthur Murray Dance School. She worked as an office manager for Dr. Frank Louie DDS. In 1987 she was employed by the Alameda County Clerk's office, and in 1999 moved up to the Family Law Division Court until her retirement in September of 2009. She was a member of Our Lady of Grace Catholic Church, volunteering in the RCIA program. She was also a member of Clan Donnachaidh at the Scottish Games and the WINGS prayer group. Linda was a long time member of St. Andrew's Noble Order of Royal Scots, portraying an Italian Ambassador Signora Mary Elizabeth Viggiano at Scottish Games and Renaissance Faires. Linda is remembered by her St. Andrew's family for her beautiful smile, infectious laughter, and her warm personality that she shared with patrons and re-enactors alike. We are wealthier for having known her and saddened by her passing.
Her survivors include her daughter Maria Viggiano of Castro Valley, her sister and brother-in-law, Hazel and Thomas Davis of Houston, Texas and numerous nieces and nephews. She was pre-deceased by her parents and her two brothers Hugh and Glen Duncan.