Escalon (Stockton/Modesto) and the rest of the Central Valley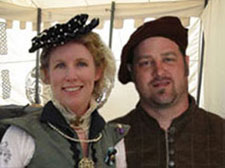 Her Royal Majesty, Mary Stuart &
Lord Archibald Campbell, 5th Earl of Argyll

(otherwise know as Lord Cullen & Lady Gwendolyn Elliot)
We welcome you to the Saint Andrew's Guildhouse, serving our Central Valley members from Sacramento to Turlock and beyond…
We regularly change our scheduled meeting nights in the spring and fall to best suit our members' schedules – please email for more info.
Come and join us as we gather together to expand our knowledge of history and re-enactment in our hobby portraying the court of her most gracious majesty, Mary, Queen of Scotland and the Isles. An evening with us might include one or more of the following:
Discussion of Scotland history and/or renaissance era history
Viewing a movie of Historical benefit
Working on character development, language and acting
Working on costume development
Practice of Scottish dances
Other items as requested by our Guildhouse attendees
Occasional potlucks or pool parties have also been know to occur from time to time.  Everyone is welcome, not just members – if you'd like to get to know some of us in a bit less formal setting than at a Scottish Game or Renaissance Faire, this is the time for you to come explore what we have to offer!