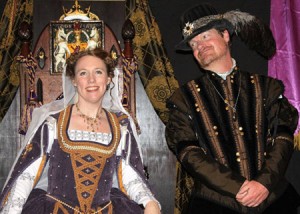 Here we find ourselves, in the service of Mary, Queen of Scots in this, the year of our Lord, 1562. Our 19 year old Monarch has just returned to us as the young widow of a French King. She travels Scotland to see Her lands and meet Her people.
Come, meet your Scottish Monarch and join us on our journey . . .
St. Andrew's Noble Order of Royal Scots is a non-profit educational group. We focus on education by traveling to schools and Scottish Festivals to bring to life the Court of Mary Stuart, Queen of Scotland as it was in the year 1562.  Our Youth Outreach Program, focusing on the seventh grade, brings history to life for students studying the Renaissance.  At Scottish Festivals and Games, we typically found at the center the living history section, helping explore the rich history and heritage of Scotland.  We also attend various Renaissance Faires and Festivals throughout Northern and Central California.
And now, NEW for 2016 – ANOTHER note from your friendly neighborhood Webmaster:
Here we are in 2016, and our "new" website, is a year old! Last year we promised that "this new format will allow us to add dynamic new content throughout the year." Well, we did have a bit of that, and what we did test was a success. But now we need MORE. More content. More contributers. Heck, maybe even more cowbell! So stay tuned as we continue to work toward bringing forth the new Parchment 2.0 in an all electronic format, along with (we hope) an all new dynamic Member/Character Handbook, and all the Mary Stuart resources we can get posted! – Archibald Campbell, 5th Earl of Argyll and your humble Guild Master
Saint Andrew's Noble Order of Royal Scots is a participant in the Amazon Services LLC Associates Program, an affiliate advertising program designed to provide a means for sites to earn advertising fees by advertising and linking to amazon.com.